Are you a WordPress user? And work on the Google Chrome browser? This tutorial is on WordPress Chrome Extensions.
Google Chrome is a great browser and offers extensions to enhance your browsing functionality. These Chrome extensions perform several tasks for your browser.
There are a lot of WordPress Extensions for Chrome browser in the market but not all of them are useful. Here I have chosen some of the best WordPress Chrome Extensions that can improve your WordPress workflow and help you become more productive.
Best WordPress Chrome Extensions
Grammar is a very popular and great Chrome extension that improves your writing skill. It detects spelling and grammatical errors. If you want to improve your writing performance and avoid spelling and grammatical errors, then Grammarly is the best option.
WordPress Style Editor is a very good plugin. It saves CSS changes made to the developer tool directly in the WordPress stylesheet. Using Chrome developer tools, you inspect your theme styles and make changes to the CSS. But, when you refresh the page, those changes are lost. With this extension, you can save that CSS changes directly in your theme stylesheet without editing any files or using the FTP client.
3. WordPress Site Manager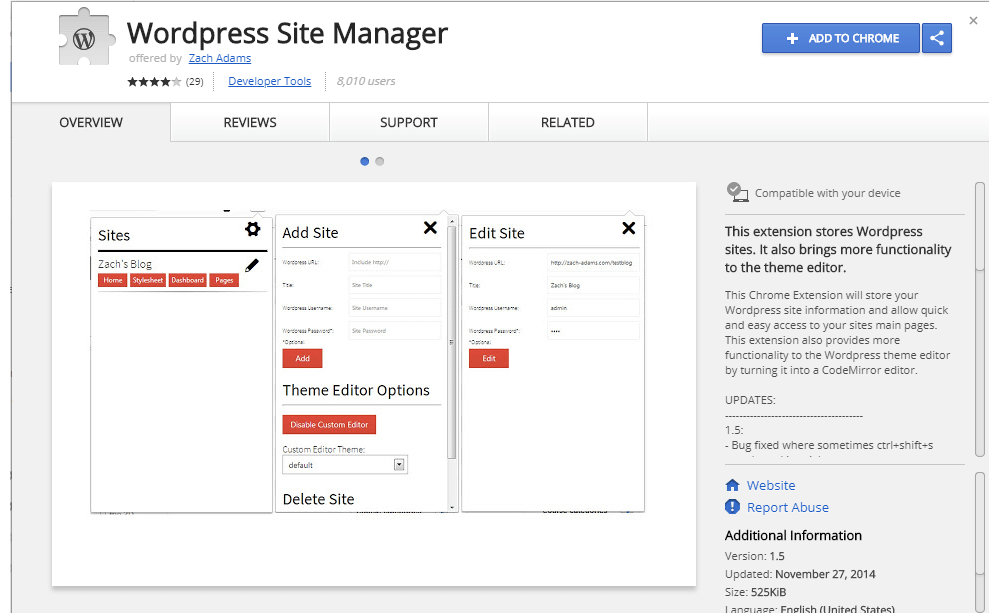 This is a great chrome extension for WordPress developers who manage multiple WordPress websites. The extension stores information about your WordPress site and allows quick access to your site dashboard. You can add as many sites as you want.
4. Evernote Web Clipper
Evernote Web Clipper allows you to save what appears on the web to an Evernote account. This is a great WordPress Chrome Extensions for WordPress users, while researching for your next blog post, you can clip any article from the web and open them on any device with Evernote.
5. CloudApp Screen Recorder, Screenshots
CloudApp is a very popular Chrome extension that records and screenshots your screen, and allows them to be shared with anyone. It is the highest-rated screen capture and image annotation tool.
6. LastPass
LastPass is a password manager tool that stores your password and gives you secure access from every computer and mobile device. With LastPass, you can generate strong and unique passwords. You do not need to remember the password, it autologin your site.
7. WhatFont
This is the easiest way to identify the fonts of any web page. If you feel uncomfortable using Firebug and Webkit Inspector, with this extension, you can inspect web fonts by simply moving the mouse pointer over the text. This is a simple and best way to see which font a website is using.
8. WPSNIFFER
WPSNIFFER helps identify the WordPress theme used on the WordPress site. When you click on it, it shows a link to the active WordPress theme and redirects you to Google search.
9. Version Check for WordPress
Version Check for WordPress is a very good Chrome extension that checks the version of a powered by WordPress website, ie which version you are running, and indicates whether your WordPress version is outdated.
10.MozBar
MozBar is the best tool that provides an all-in-one SEO toolbar for research. It gives instant metrics for any page or SERP.
You can check the Domain Authority of any site or page.
You can highlight a page's keywords and separate them by the Followed, No-Followed, External, or Internal link.
You can check page elements, general attributes, markup, and HTTP status.